Nutan Incubation Center
About Nutan Incubation Center
Nutan Incubation Centre(NIC) supported by NMVPM (Nutan Maharashtra Vidya Prasarak Mandal), envisages to build and nurture the community in the state of Maharashtra including its Tier-2 and Tier-3 cities with respect to the startup and innovation ecosystem. The objective of the NIC is to reach the innovators at the bottom of the pyramid and give them equitable opportunities, especially by reducing the lab-to-land distance and creating a space for the pre-incubation of ideas & solutions.
Our Objective
The objective of the Nutan Incubation Centre is to provide comprehensive support and resources to students and the community, fostering an entrepreneurial mindset and enabling the creation of innovative, high-growth startups that have the potential to become the next unicorns.
Through our programs, mentorship, and access to resources, we aim to equip students with the necessary skills, knowledge, and networks to develop disruptive ideas, build successful startups.
Our Vision
Our vision is to become the premier one-stop supporting arm for students and the student community, empowering them to unleash their entrepreneurial potential, solve real-world problems, and build scalable businesses that drive economic growth and societal impact.
Our Mission
At the Nutan Incubation Centre, our mission is to create a vibrant ecosystem that nurtures and guides students in their entrepreneurial journey. We strive to provide a conducive environment where creativity, collaboration, and risk-taking are encouraged.
Our Values
Entrepreneurial Mindset:
We promote an entrepreneurial mindset characterized by innovation, resilience, and a willingness to embrace challenges and opportunities.
Collaborative Approach:
We foster a culture of collaboration, connecting students with mentors, industry experts, and peers to encourage knowledge sharing, idea exchange, and interdisciplinary collaboration.
Bottom-Up Culture:
Our culture promotes ideas to flourish by enabling a Bottom-Up leadership
Ease of Use:
Our attempt is to make things comfortable and easy. Someone said it right, "Customers may forget what you said, but they'll always remember how you made them feel".
Diversity and Inclusion:
We embrace diversity and inclusion, creating an inclusive and supportive environment where students from all backgrounds can thrive and contribute to the entrepreneurial ecosystem.
Thrust Areas
Our Thrust areas define the industries we will be creating our expertise in. These thrust areas are the industry categories which diversify us from the other incubation centres and provide value to the startups/ideas incubated with us.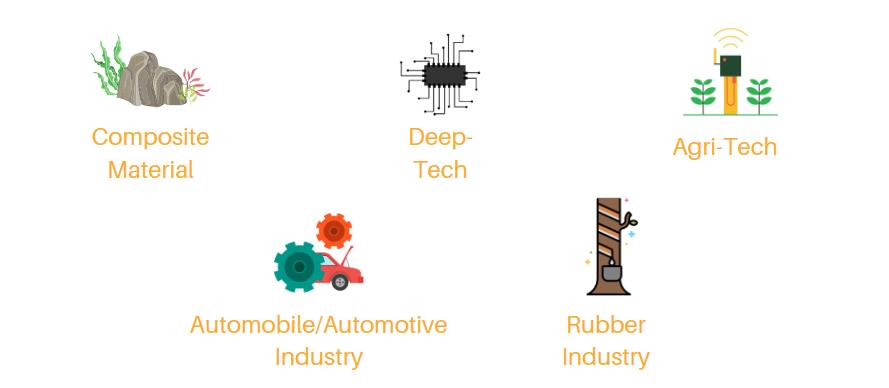 STartup Ecosystem by the NIC
Co-Working Space
Our Co-Working Space is the perfect place to work with a quiet and collaborative environment, with all the basic facilities included like a dedicated desk, high-speed internet, meeting rooms, pantry, library, common printer, parking space and more.
Infrastructure Rental
Our fully equipped labs are ready to be used by people who wish to create prototypes of their products and do their Research and Development in order to make their product market-ready.
Pre-Incubation Program
The Pre-Incubation Programs of NIC would be specially designed programs to support the innovation and ideas generated by the students to help them make a reality.
Research & Development
Our Research & Development support and facilities are here to help the students and the startup community research and experiment on their new ideas
Youth Accelerator Program
A quarterly fellowship program will be designed and curated by NIC where an intake of 15-20 startups will be part of the cohort. This theme-based cohort will help the batch to get hands on business mentoring, restructuring and pivoting. Along with assistance in e-commerce, people and financial management and sales push via internal initiatives. This cohort will also get advantages of investor connect and fundraising assistance.
Funding Support
NIC with its ecosystem partners and investors network will provide all the possible seed or series funding support to all the incubates & cohort batch to help them grow their business and get to heights in the market.
Mentor Support
With our mentor network of industry experts from each sector, be it crafts, lifestyle, fashion, design or specialised art, and our strategic mentors from the field of Marketing, Finance, Administration, Technology, or any other support needed, NIC will make sure that every incubatee approaching the Foundation's door will get the right mentorship for their required skills.
Bootcamps
The Centre will be organising several theme-based bootcamps for a specific set of audience from time to time like school students, college students, working professionals, etc. to train them on specific skill sets that can help them develop an entrepreneurial mindset and give them a push to bring their own idea to a reality.
Events & Workshops
NIC will be hosting multiple events, webinars, expert sessions and state-of-the-art workshops throughout the tenure to engage the stakeholders of the foundation and to increase our physical and virtual outreach.
Boosters
NIC will offer a wide range of Technical free boosters to startups to help them make their business journey easy and convenient. These boosters will be free to use or might be provided as subsidized rates.
Capacity Building
NIC will organize various capacity-building programs aiming to bring different expertise to the startup community and expand the horizon by industry mentors.
Corporate Partners
NIC will onboard the best-in-class corporate industry as a partner organization to help the startups and the community explore the different aspects of the industry while also seeking the right guidance and mentorship from them.